by Lade A. Araba
It must have been sometime in 1999 when my stylish finance professor in university shared her personal career journey with us wide-eyed third-year students. She spoke about her remarkable career and her decision to leave corporate America to teach. She told us that she had decided from a young age that she wanted "options in life". She wanted to be able to choose her own career path and whom she worked for. She wanted to take charge of her destiny so she stayed in school and worked very hard to come out on top. I would hazard that most Nigerian students have the same aspirations.
However, the existing educational outcomes do not seem to really empower or equip our graduates with that "je ne sais quoi" that would enable them to take charge of their destinies as my American professor and so many others have.
Nigeria aims to become a leading global economy in the next decade. It will require consistent and strategic investments in human capital development in order to achieve this laudable objective. A robust educational system that produces outcomes, which are directly linked to the needs of industry and to the key economic drivers, is therefore a necessary first step.
Nigeria is yet to enter into a well-defined industrial revolution despite the passing of legislation and the publishing of a national policy in recent years. This unfortunate reality is shared by a number of African countries. It is instructive to note that Africa as a region produces the lowest share of engineering graduates, has the lowest physician-to-population ratio, and contributes the least to global innovation.

This is not surprising given the poor educational outcomes produced in our countries. Rote learning is still the method of instruction mostly used in Nigeria and in a number of other African countries but rote learning does not equip students to think innovatively, solve problems, be flexible, and adapt to a changing global market.
The incoming administration should commit to urgently overhaul Nigeria's education sector. It must prioritize establishing a robust education system that inculcates students with strong ethics and civic responsibility. Nigeria, as a nation, will never achieve her full potential without adequate investment in the education sector.
Nigeria's population is expected to exceed 220 million people by the year 2020. Of this massive populace, 73 million (33%) will be under the age of 24. There are presently 11 million children who are out of school (62% of them girls), including 4.7 million elementary school age children. Moreover, 30% of pupils drop out of primary school and only 54% of those remaining proceed to secondary school. Although there has been an increase in tertiary level enrollment, over one-third of Nigerian graduates lack the basic skills that would make them "employable".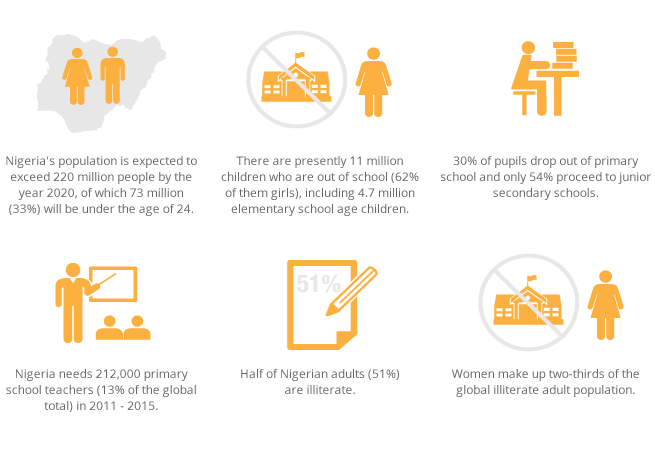 Years of neglect have effectively led to the current demise in educational performance across Nigeria. Weak policies, poor regulation, and minimal public investment have contrived to produce an uneven educational system that largely fails to stimulate the "intellectual rigor, talent, discipline, imagination, and inspiration that enable people to reach their full potential". At the same time, religious and ethnic tensions have fuelled a new wave of violence, which threatens to completely cut off sections of the population. The insecurity in northern Nigeria has destroyed the few schools and thinned the already small number of teachers who played a pivotal role in linking often-marginalized communities with our country's more economically advanced regions.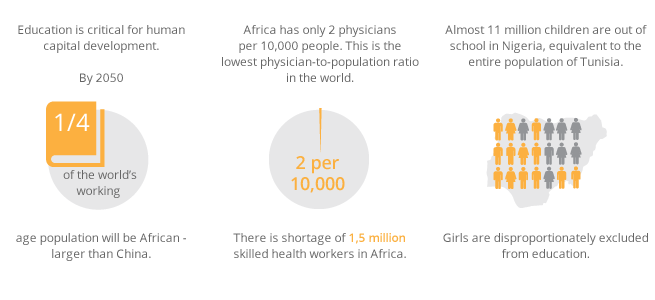 Nigeria needs an updated and modern, outcomes-oriented education policy if we are to experience real change in the country. Although a number of factors have contributed to the current state of education in Nigeria, a focus on four key areas can help to rebuild the sector. These pillars form the basis for concrete actions to overcome the formidable challenges in basic, secondary, tertiary, and technical or vocational education. They should be implemented at both the Federal and the state levels.
First, the quality of instruction must be improved. We need urgent revisions to the national curriculum that will create results-driven courses of instruction that develop employable graduates. We also need a contemporary training structure for teachers and instructors to ensure that they have the cutting-edge skills and relevant knowledge to transfer to their students. Teachers need regular certification that is closely monitored by an independent regulator. It is also important to ensure that our students and teachers have unfettered access to modern teaching aids and an optimal teacher-student ratio in all classrooms.
Second, we must emphasize high quality instruction in the science, technology, engineering, and math (STEM) fields at the primary, secondary, and tertiary levels while at the same time revamping our technical education colleges. Girls, who are especially marginalized in the education system, should be encouraged to pursue STEM degrees through special programs at the secondary and tertiary levels, to ensure that they acquire versatile skills that make them attractive to employers across a variety of sectors. We should create endowed industry-linked research institutions that can conduct high-level research into innovative solutions to Nigeria's most important challenges including infrastructure development, food production and storage, health, and more. This is a model already at work in western countries. It is readily adaptable to our local context.
Third, we must enforce standards for the type of infrastructure provided to publicly funded schools, many of which are currently in a state of disarray. Schools must be built using durable construction materials and equipped with running water, modern toilets, and electricity. They should have adequate security so that Nigeria's children spend their time in a physically safe and comfortable environment conducive to learning. Our schools need fully stocked libraries, modern science labs, computers and ICT equipment to aid instruction and learning.
Finally, a transparent, efficient, and sustainable education financing plan is required. Creating a dedicated hybrid Education Fund that is professionally managed by a competitively selected private Fund Manager is probably the best course of action. The Government could draw resources from the Universal Basic Education (UBE) Fund and the Tertiary Education Trust Fund (TET) as seed financing for the Fund. Our goal should be the optimal utilization of public resources for the common good and all investments made by the new Education Fund should ensure uniform, high quality universal basic education at least up to secondary school for all Nigerian children, especially girls.
Change in Nigeria must start with reform in how we teach ourselves about the world we inhabit. If we take education seriously, we will ensure that every Nigerian graduate is sufficiently literate and technically competent to pursue a rewarding career or become the next Bill Gates.