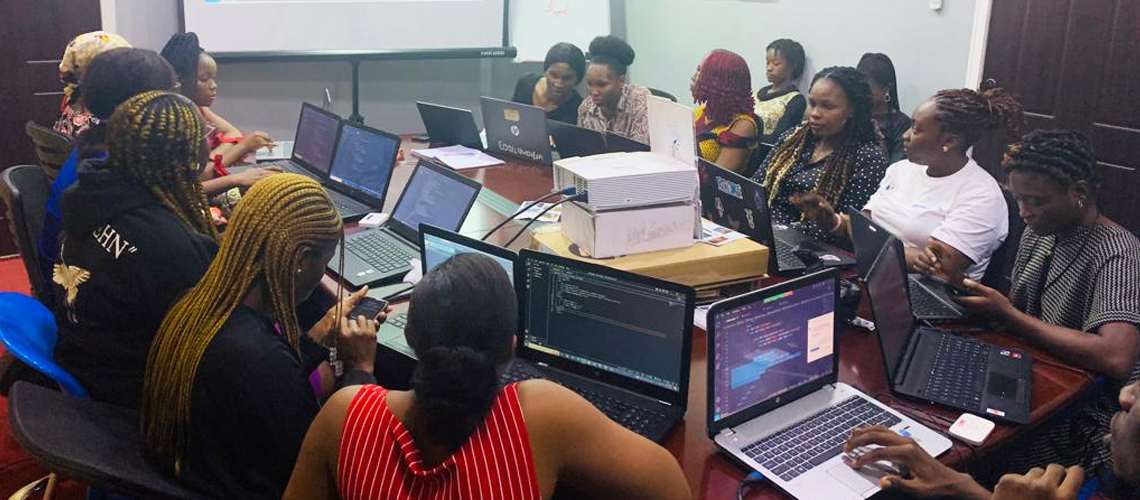 Coding Bootcamps for Women
The Visiola Foundation's Hybrid Coding Bootcamps are an intensive eight-week training program that will provide participants with a strong foundation upon which to build their careers as computer programmers and tech entrepreneurs. The bootcamps will run from 9:00 a.m. – 12:00 p.m. (WAT) daily, Monday to Friday, and classes will be held in-person, Zoom, WhatsApp, and Google Classroom.
They will work on individual assignments and group challenges to enhance their learning, critical thinking, analysis, and problem-solving abilities. This will serve as a foundation upon which they will mature into successful software developers and IT professionals. The aim of the program is to encourage more girls to pursue technical careers by empowering them with vital knowledge to facilitate their success. The bootcamps will end with a virtual closing ceremony where participants get to pitch their projects. Students working in teams will be given capstone projects to work on after which they will join an alumni network to be connected with leading employers.
Objectives of the Coding Bootcamps:
A stronger foundation in computer science.
Increased knowledge and confidence in programming.
To enable participants to develop web applications and programs.
To equip participants with technical skills that will make them eligible for high-wage job opportunities.
Through this program, the Visiola Foundation seeks to increase the number of women in computer science with a view to create a pipeline of professionals who will leverage technology in developing innovative solutions to Africa's most pressing challenges.
Must be an African woman aged 17 – 30 years.

Must have received her primary and secondary education in an African country (certificates to be verified).

Must be available for the full duration of the bootcamp.

Must have a laptop or borrow one for the duration of the bootcamp.
Participants are required to pay N250,000 or $400 participation fee.
Limited scholarships are available and applicants will need to provide verifiable evidence of financial need.
Zenith Bank
Account Name: The Visiola Foundation
Account Number: 1014041410
Reference: 2023-SSC-Student's Last Name-First 3 letters of student's first name.
E.g. The reference for a student named "Chioma Hassan" would be 2023-SSC-HASSAN-CHI