the visiola foundation e-newsletter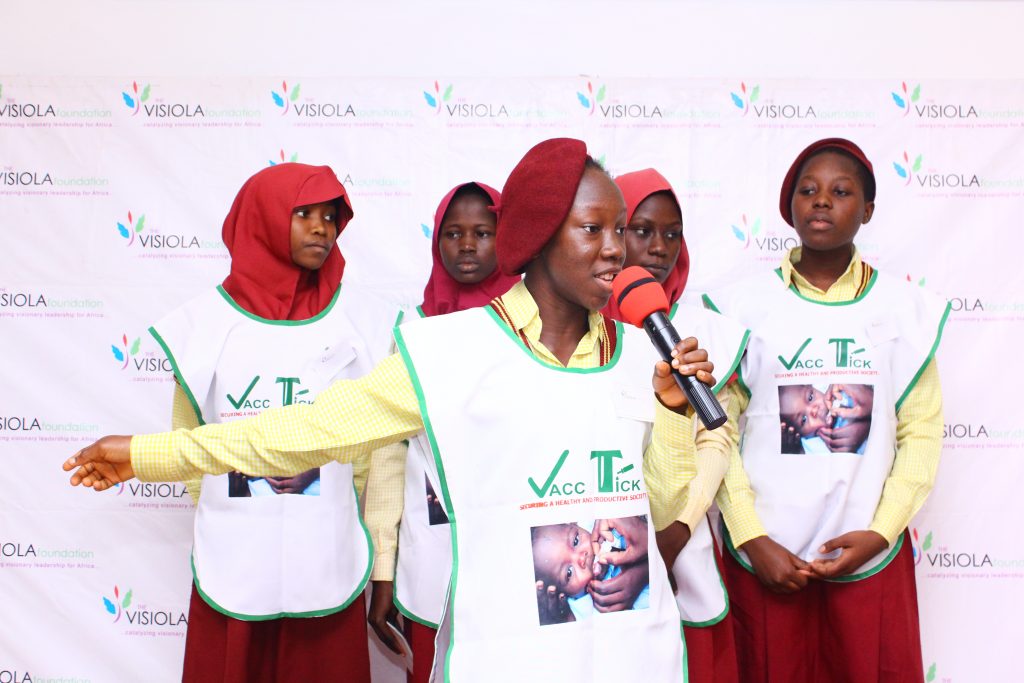 GSS Students Presenting their Project
STEM LEADERSHIP AND ENTREPRENEURSHIP FOR GIRLS (STEMLEG) INTER-SCHOOL COMPETITION
The first inter-school competition of our STEM Leadership and Entrepreneurship for Girls (STEMLEG) Program took place on June 27, 2019. The STEMLEG Program; which is partly funded by the Aspire Coronation Trust (ACT) Foundation has been developed to teach 1,000 girls attending under-resourced government secondary schools across the FCT valuable skills to enable them to become employable, and entrepreneurs who are able to generate an income, while using their newly acquired technical skills to solve local challenges.
The students receive practical training through the Foundation's carefully designed curriculum; which includes individual and group assignments and projects that enable them to build real prototypes that deepen their understanding of science, technology, engineering, and math.
The students were coached to identify pain points in their communities and to develop appropriate solutions. This targeted approach seeks to inspire a degree of responsibility to equip students with the forethought required to view challenges as opportunities to explore and solve them.
In addition to other core subjects, the students learnt how to build mobile applications to specifically address a societal ill. These activities are helping to strengthen the theories they are learning in their mathematics and physics classes. They are further learning how to think analytically, solve problems creatively, and work in teams. The inter-school competition allowed students in the STEMLEG Program to showcase their newly acquired skills in mobile programming.
In her Keynote Address, Mrs. Fatima Babba, HOD, Special Services Division of the Federal Capital Territory (FCT) Secondary Education Board (SEB) stated that ICT has come to stay in every economy of the world and Nigeria and is not an exception. The STEMLEG program exclusively for girls couldn't have come at a better time than now, hence the adage that says, "what a man can do, a woman can do better." ICT cuts across all facets of the economy, and the FCT Secondary Education Board is delighted with the Visiola Foundation's work in its secondary schools.
Mrs. Babba explained how they observe that the Foundation's work has spurred on students to greater and better heights in every phase of their lives by developing logical, analytical and synthetic reasoning skills; which improve academic performance. She further noted the increased confidence and self-esteem of the girls, with the attendant consequence of an increase in the enrollment of girls in science subjects that will further the nation's economic growth.
The Visiola Foundation worked with 1,000 students from 20 Government Secondary Schools in the Federal Capital Territory in the 2018/2019 academic year.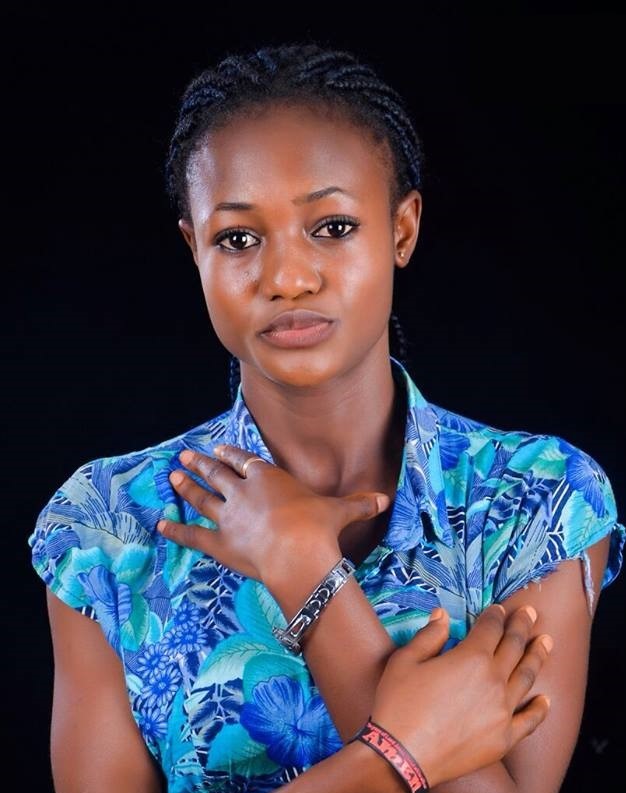 SUCCESS STORIES FROM PAST STUDENTS
FAITH OKORIE (21) – 2016 Visiola Coding Boot Camp Grad
I am a 400-level student currently studying Technology Education at the University of Ilorin.
I graduated from the Visiola Foundation's 2016 Coding Boot Camp for Girls and it was a life changing experience. I was taught web development using HTML, CSS, and Javascript, and also learnt how to code in Python. In addition, the camp really boosted my self-esteem and helped me become more critical and to really think things through. I am now studying a technical course because of my improved self-confidence. The boot camp completely changed my approach to life.
Being a female programmer is one of my greatest achievements. I completed the camp and was one of the best graduating students. As a prize, I was awarded a laptop; which has really helped me in my academic work. I would not have been able to afford a laptop and would have struggled with studying and completing assignments on campus. I'm always happy and eager to tell my friends and teach them how to code.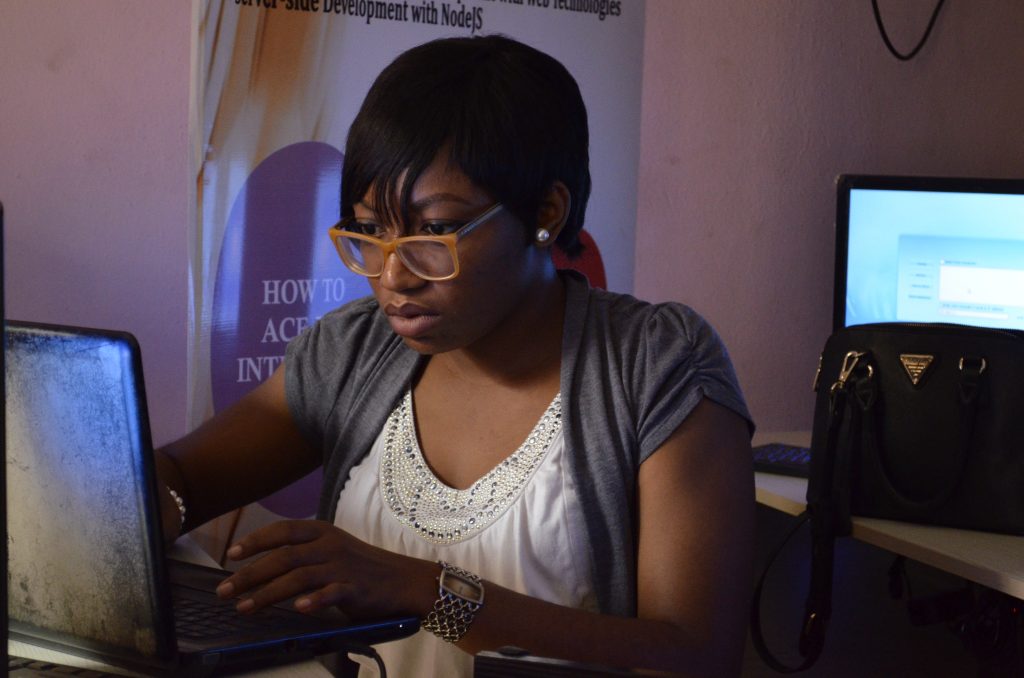 Onyinye at the Coding Boot Camp in Enugu
ONYINYE OKOYE (22) – 2017 Visiola Coding Boot Camp Grad
I have always been intrigued with technology so I ventured into the world of Digital Marketing in 2015. This held my interest for a while till I became curious about how Artificial Intelligence works and ways it could boost customer-leads and generate revenue for businesses. I decided I would start from the basics- learning how to code and how software applications are developed. I came across the Visiola Foundation boot camp advert through a group page on WhatsApp so I decided to send in my application. The coding boot camp was an excellent opportunity for me to learn the basics of programming, Full Stack Web Development, Python, Data structures and Algorithms, networking and teamwork skills. During the boot camp, I successfully built a mathematics application for high school students using Python, and a web application that processes orders for restaurants.
After the boot camp, I signed up for mobile web development and AI online courses so I could hone my skills as a web developer. I am always working to improve my coding and development skills by practicing with open source projects.
Presently, I am training and working towards becoming a Mobile Web specialist through the Google Africa Certification Scholarships in partnership with Andela and Pluralsight. I would not have been selected for this prestigious scholarship, if not for the excellent training and preparation that I received from the Visiola Foundation in 2017. In the future, I hope to be an expert developer and founder of a tech start-up that will provide a platform for developers to create solutions to problems.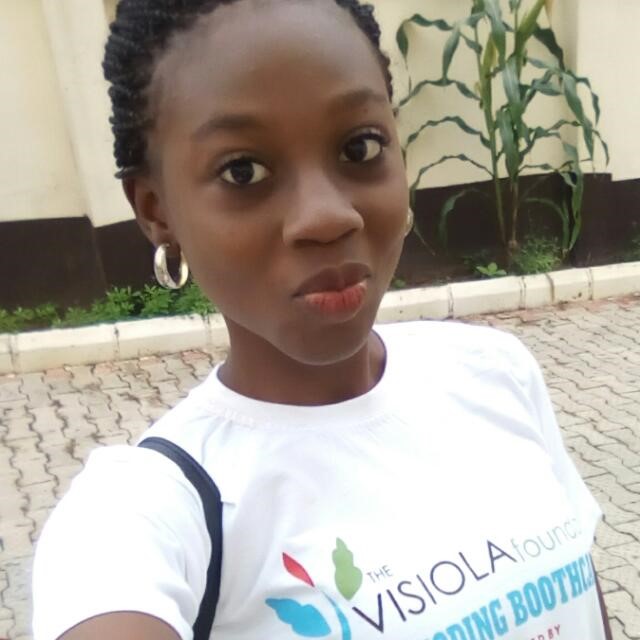 Divine Owolabi at the Coding Boot Camp
DIVINE OWOLABI (18) – 2016 Visiola Foundation Scholar and 2017 Coding Boot Camp Grad
The Visiola Foundation awarded me a full academic scholarship in 2016 to study Computer and Information Science at Lead City University in Ibadan. I still remember how nervous I was when I was shortlisted to take an exam and be interviewed by a panel from the Foundation. It was really nerve wracking and I am still so grateful to have passed!
I am currently completing a four-month internship program at the Cyber Security Experts Association of Nigeria (CSEAN) in Abuja, after which I will begin my final year at university.
It was a privilege to attend the 2017 Coding Boot Camp. I gained insightful knowledge and expertise in Full stack web development, python, learnt graphic design, and also learnt to program mobile Applications. In addition, the value packed mentorship sessions transformed my life, and realigned my career goals. As a computer science student, the knowledge I received from the Visiola Foundation gave me an edge over my classmates and improved my academic performance.
I come from a disadvantaged family and the Visiola Foundation has reshaped my life. I have been exposed to limitless opportunities, have received a fully funded university scholarship, and my hope has been restored. The Visiola Foundation has made me dream again.
I plan to pursue a career in cyber security; which is a fast growing industry filled with endless opportunities. My career ambition is to be a Cyber Forensics Expert, thereby, contributing my selfless service in fighting cyber crime. Only 31% of Africa's scientists are women. 4 out of 5 victims of human trafficking are girls. Girls with at least eight years of education are four times less likely to marry as children. A child born to a mother who can read and write is 50% more likely to survive past the age of 5. Women comprises more than 20% of engineering school graduates, yet only 11% of practicing engineers are women. Less then 30% of the world's researchers are women and Google has a program to inspire the next generation of tech innovators. In 2012, there were 3,600 documented attacks on education, including violence, torture and intimidation against children and teachers, resulting in death or serious injuries, the shelling and bombing of schools and the recruitment of school-aged children by armed groups. At least 250,000 maternal deaths and as many as 1,7 million new born deaths would be averted  if the need for both family planning and maternal and new born health services were met. Of 100 female bachelor degree students, 12 graduate with STEM major but only 3 continue to work in STEM field 10 years after graduation.
Source: UNICEF, UNESCO (2014); WHO; Savethechildren.org (2013)