the visiola foundation e-newsletter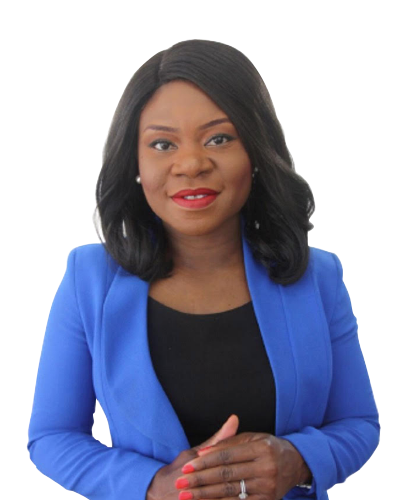 Ladé Araba
Founder and President of the Visiola Foundation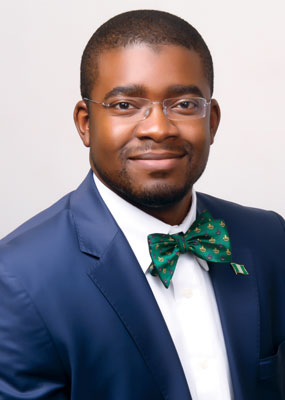 Risk taking, experimentation, and competition stimulate deep learning, while encouraging innovation. An environment that fosters this type of creativity by enabling students (and people in general) to think, test their ideas, and to reject conventional wisdom is a critical pillar for economic transformation. In his new book, "A Culture of Growth: The Origins of the Modern Economy," Economic Historian Joel Mokyr asserts that the industrial revolution occurred in Europe (and not in China, for example) for this very reason. In a nutshell, "Europe developed a unique culture of competitive scientific and intellectual advancement that was unprecedented and not at all predestined." This enabled the world to leapfrog from being extremely poor to stunningly rich in just a few centuries.
We strongly believe that Africa must ride that wave of "competitive scientific and intellectual advancement" to catapult the continent into a much improved future. It begins with the educational system and how the curiosity of young students is nurtured. Unfortunately, most public schools fall short of providing this level of practical rigor. Even when hands-on activities are organized to complement theoretical in-class instruction, they are sometimes based on outdated concepts and materials. This invariably limits the ability of African students who could otherwise make valuable contributions to global scientific knowledge and innovation.
We are therefore committed to providing African students, particularly girls, with that critical environment where "risk is rewarded, curiosity is encouraged, and creativity is expected." We do this through our high-quality after-school programs; which enable students to devise solutions to the challenges they witness around them and to actually transform their ideas into something tangible. Students in our programs are given the space and the materials to build things. It is personally fulfilling for them to see a prototype that they have constructed in action. It builds their confidence and further stimulates their creativity and innovation potential. We believe that all students across Africa, even those who attend financially strapped public schools, should have access to these types of learning opportunities. Africa needs to harness all of its talent in order to progress!
We had an eventful third quarter! Our annual STEM Summer Camp for Teenage Girls was highly successful, as was our inaugural Coding Boot Camp for Girls. Some of the participants also had the opportunity to showcase their STEM skills during a special roundtable meeting with U.S. Secretary of State John Kerry. We also formally registered the Visiola Foundation Ghana and have awarded our inaugural scholarships to disadvantaged girls to study Engineering and Management Information Systems (MIS) at Ashesi University. Finally, we awarded the 2016 scholarships to indigent girls to study Computer Science at Lead City University.
Take a walk with us as we review our activities during the third quarter of 2016.
Happy reading!
Debisi and Ladé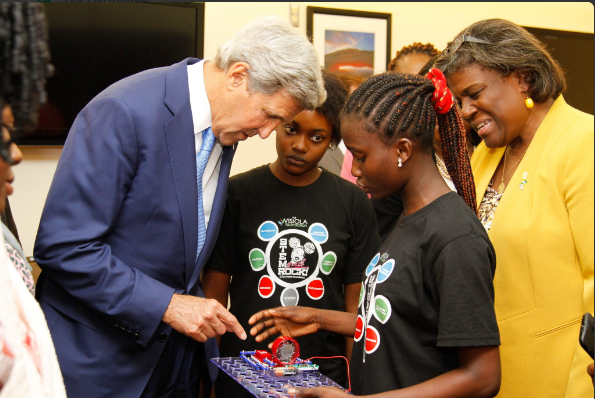 U.S. Secretary of State John Kerry inspecting the salt water alarm built by Jessica (15), a participant in the Visiola Foundation's 2016 STEM Summer Camp for Teenage Girls. Ambassador Linda Thomas-Greenfield looks on.
U.S. SECRETARY OF STATE, JOHN KERRY, IMPRESSED BY STEM GIRLS
The Visiola Foundation was invited to a special Roundtable Meeting with U.S. Secretary of State John Kerry, U.S. Ambassador-at-Large for Global Women's Affairs Cathy Russell, and U.S. Assistant Secretary, Bureau for African Affairs, Ambassador Linda Thomas-Greenfield in Abuja on August 24, 2016. During the meeting, Secretary Kerry discussed the importance of educating girls and of getting them interested in the science, technology, engineering, and math (STEM) fields. Ambassadors Russell and Thomas-Greenfield also shared their perspectives and highlighted their efforts to promote the education of girls worldwide.
Secretary Kerry invited the adolescent girls present to share their experiences and the challenges they face as girls, as well as their aspirations. During the discussion, Ruth (16) and Jessica (15), participants in the Visiola Foundation's 2016 STEM Summer Camp shared what they learned during the camp. They noted that their society doesn't value girls and that being female is often a disadvantage leading to limited opportunities in life. After the camp, they now believe that they become anything they set their minds to. They also gave a live demonstration of the robotic forklift and the salt-water alarm projects they had learned to build. The dignitaries were extremely impressed with their work and their confident presentation skills. Secretary Kerry asked them what they wanted to study in college (university) and suggested that they consider applying to the Massachusetts Institute of Technology (MIT).
Other organizations at the meeting included the U.S. Education Africa Initiative, Girl Effect, Technovation Challenge – Bauchi, and the Centre for Girls' Education.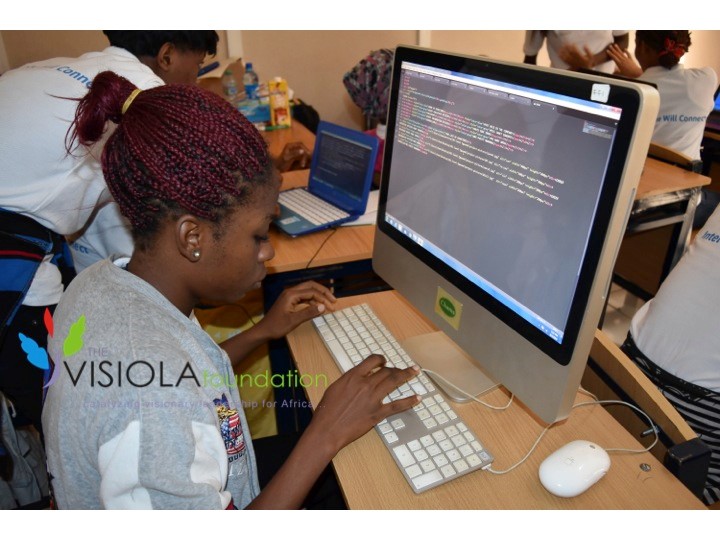 Cross-section of the 2016 Summer Coding Boot Camp for Girls
SUMMER CODING BOOT CAMP FOR GIRLS A HUGE SUCCESS!
Young women between 17 and 25 years of age from disadvantaged backgrounds who had no prior programming experience learned to code in the Visiola Foundation's intensive five-week Coding Boot Camp for Girls; which took place on July 18 – August 20, 2016 in Abuja. They acquired strong foundational knowledge in logic, reasoning, Data Structures, and Algorithms and learned to code in JavaScript. They also learned to build interactive websites using HTML, CSS, and PHP.
In addition, the Coding Boot Camp taught the young women to believe in themselves, to maintain their personal integrity, ethics, and values, and to work hard to become successful. They learned how to work in teams, identify problems and create simple solutions, while becoming better public speakers.
The participants further benefitted from targeted mentoring sessions by leading IT professionals. Dr. Fidelis Ndeh-Che (MD, Quanteq Technology Solutions Ltd), Mr. Gbenga Sesan (Founder, Paradigm Initiative for Nigeria), Ms. Mudi Apoe (VP, Goldman Sachs), Mr. Olu Aguda (Software Developer, Goldman Sachs), and Andela Corporation Software Developers Yetunde Sanni and Olaide Agboola visited the boot camp to inspire the students and share their personal secrets to success.
The students concluded the boot camp by presenting practical projects, including web applications for online medical diagnosis, a coding tutorial, educational study aids etc. The best eight participants were rewarded with new laptops; which were generously donated by Mrs. Bunmi Lawson (MD/CEO, ACCION Microfinance Bank Nigeria) and her friends.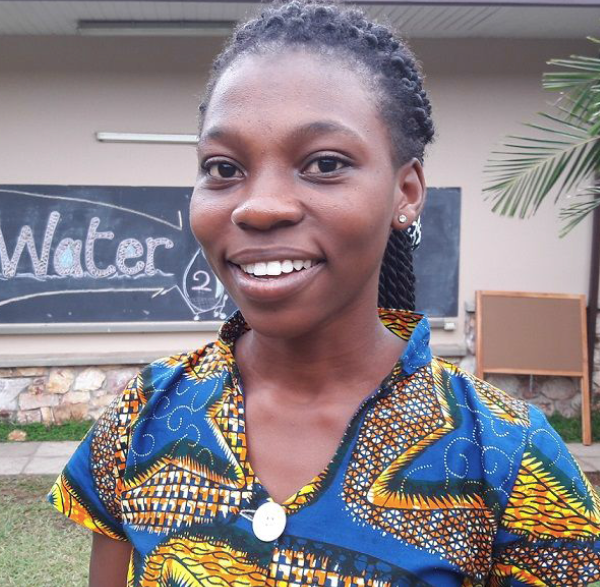 Rosemary Mettle Anku (BSc in MIS expected in 2020)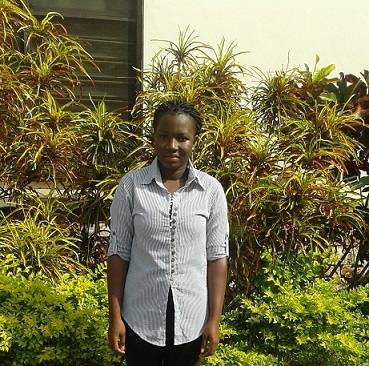 Edna Yelipoe (BSc in Engineering expected in 2020)
THE VISIOLA FOUNDATION GHANA AWARDS 2 FULL SCHOLARSHIPS AT ASHESI UNIVERSITY
The Visiola Foundation Ghana is pleased to announce its inaugural scholars at Ashesi University. Edna Yelipoe (18) and Rosemary Mettle Anku (18) have begun their four-year journey at Ashesi, studying Electrical Engineering and Management Information Systems (MIS) respectively. The full cost of their education, including tuition, fees, medical insurance, books, room, and board is being covered by the Foundation. They will additionally be paired with STEM professionals to serve as mentors to guide them in maximizing their potential. The students are expected to design and implement high-impact community service projects to underscore the importance of leadership and public service. They will be tasked with identifying critical problems and developing innovative solutions to tackle them.
"I come from a very deprived community with a lot of social and economic problems. I had no hope of furthering my education after high school due to the financial status of my family and other unexpected occurrences. A number of factors placed my family in a state of financial difficulty as it came to a point that my siblings had to miss school because their fees were not paid. At other times¨ what to eat was a major challenge. However, my dream of furthering my tertiary education after a year at home became a reality when I was admitted into Ashesi University College with a full scholarship. I hope to make a name for Ashesi and my sponsor, The Visiola Foundation and to become a better Rosemary over the next four years."
"I am very grateful for the support and opportunity given me to study at Ashesi University College. I am a highly ambitious person with a passion for reading and mathematics. Since mathematics and physics are related in a way, I also have the passion for Engineering. I would love to work with machines and also work towards creating machines that will make work easier and faster. My joy was made even more complete with the knowledge that I was going to study on a full scholarship. This was because the fear of having my dreams of good quality tertiary education was allayed. Both of my parents are currently unemployed and my older brother works hard to provide for his own family and siblings, but the burden is great. By the time I graduate from Ashesi, I will be a leader worthy of emulation."
The Visiola Foundation is grateful to the Board of Directors, Friends of the Visiola Foundation, and other donors and partners who enable it to invest in Africa's talented youth to build a pipeline of female STEM leaders.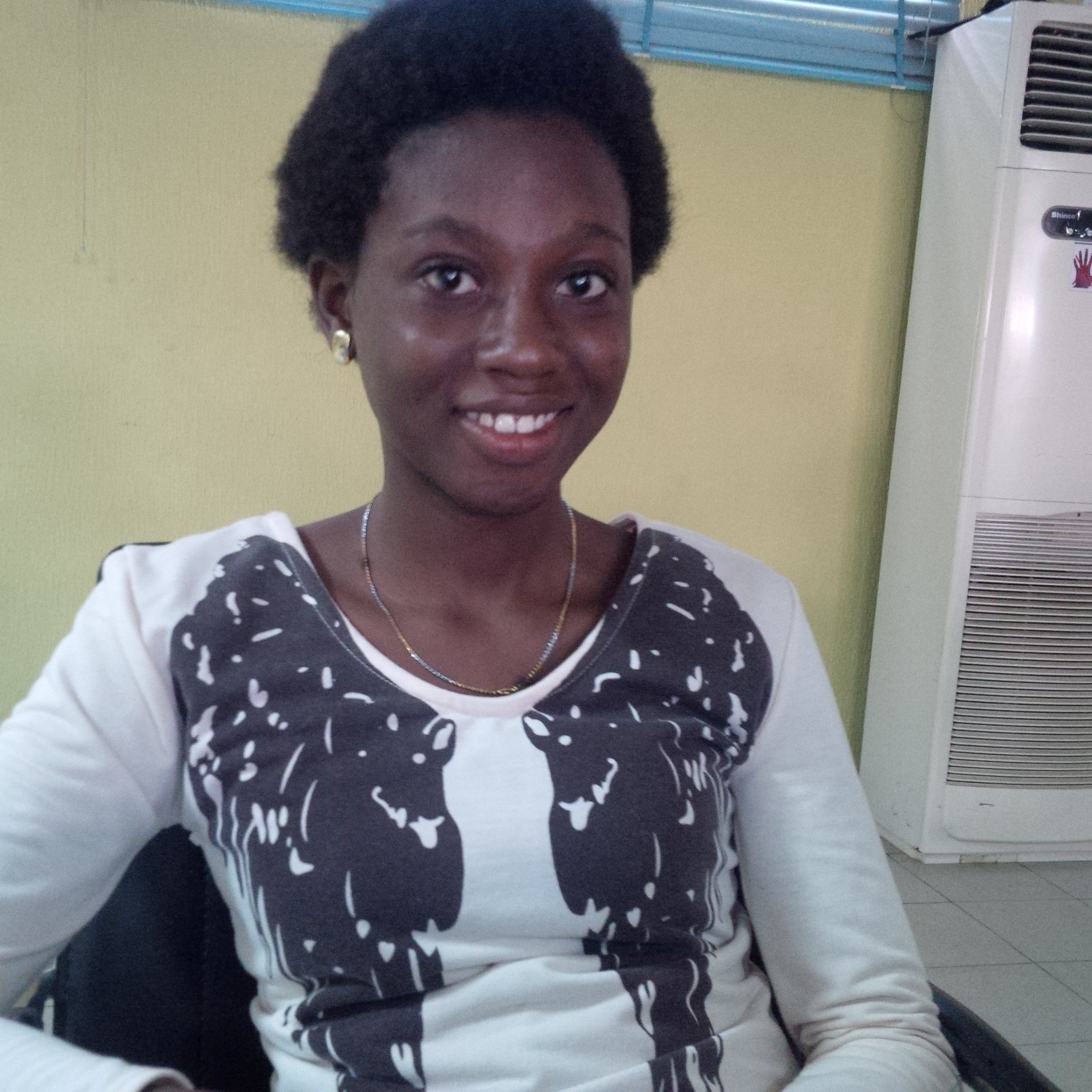 Divine Owolabi (BSs in Computer Science and Information Systems)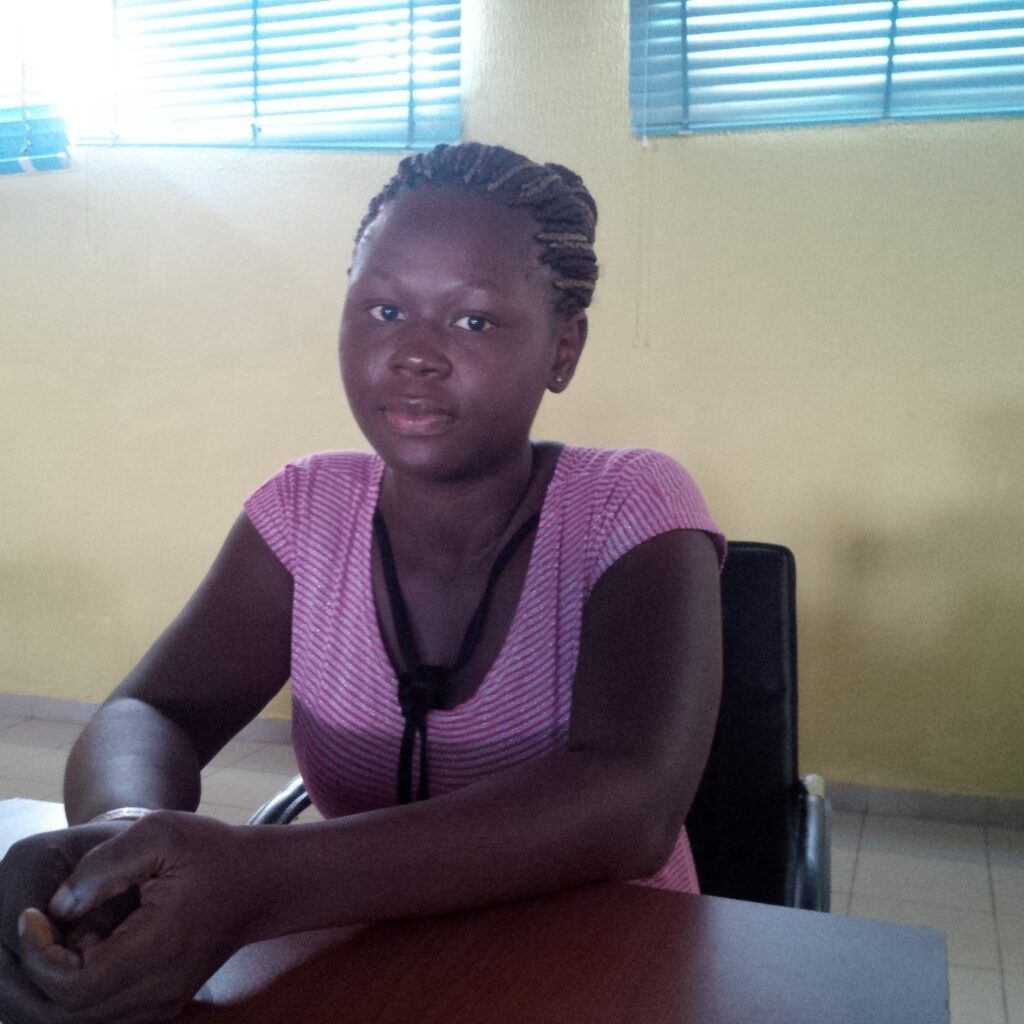 Mary Emmanuel (BSc in Computer Science with Electronics)
MEET OUR NEW SCHOLARS AT LCU!
The Visiola Foundation is pleased to announce Divine Owolabi (16) and Mary Emmanuel (18) as its 2016 scholars at Lead City University (LCU). Divine and Mary are pursuing Bachelor of Science degrees in Computer Science and Information Systems and Computer Science with Electronics respectively. They join the growing LCU cohort of exceptional students who are pursuing diverse STEM degrees. The Visiola Foundation has invested over $40,000 in full scholarships for high potential female candidates from disadvantaged backgrounds to study at the university since 2014. This investment continues to pay off as our students are consistently ranked as the best in their classes with an average cumulative grade point average (CGPA) of 4.8/5.0. This strong performance underscores our firm belief that "talent is widely dispersed but opportunity is not." Diamonds in the rough are unimpressive but when they are polished, they glow. Our students are now glowing because of their innate ability and through hard work.
"I am very honored and grateful to be one of the recipients of the scholarship. Without this scholarship, my hope of going to the university would have been marred because of my family's dire financial situations and my father's battle with cancer. However, the Foundation has given me an opportunity to rise beyond my present situations and pursue my dreams."
"I would like to take this opportunity to sincerely thank the Visiola Foundation for this great privilege to build up my dreams. I thought my world had come to an end when I lost my mother, our home was demolished, and I had to start living with my uncle in the village. I had lost hope in going to the university. The scholarship has granted me opportunities I never thought possible – attending a school like Lead City University is the best thing that could have happened to me."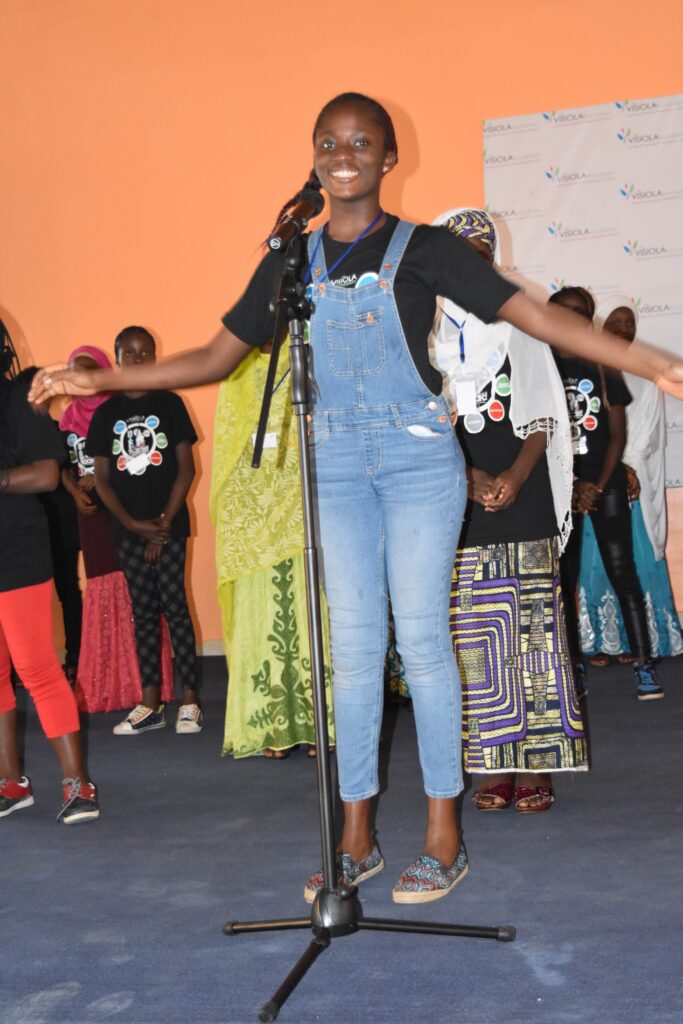 STEM SUMMER CAMP INSPIRES 45 DIVERSE TEEN GIRLS
The 45 girls from Ghana and Nigeria who participated in the Visiola Foundation's 2016 STEM Summer Camp for Teenage Girls had the time of their lives! The girls, ranging in age from 12 – 18 years old from 15 different ethnic groups and diverse religious backgrounds formed strong bonds as they worked together on the challenging robotics, electronics, mechanics, and computer programming projects. 95% of the participants come from poor/low-income communities where their self-confidence is often eroded due to financial struggles and limited access to educational opportunities. However, by the end of the camp, their confidence levels had skyrocketed as they realized their innate potential and ability to solve problems. Their academic and professional aspirations also received a boost with many declaring that they would pursue careers in the science, technology, engineering, and math (STEM) fields.
During the camp, participants learned how to create 2-D computer animations and they built robotic cars, robotic forklifts, a fully functional conveyor belt prototype, a fully functional washing machine prototype, an eco air conditioner, salt-water alarms, and electric circuits. They also completed daily challenges; which required them to think creatively about how to solve widespread challenges in Ghana and Nigeria, including adverse climatic events (droughts and floods) which threaten food security; the high incidence of vehicular accidents; and so on. They visited the National Space Agency in Abuja where they learned about atmospheric and weather science, and Nigeria's space ambition. They were also mentored by leading STEM professionals including Mudi Apoe (Computer Scientist and VP, Goldman Sachs); Titilope Sonuga (Civil Engineer/Poet and Ambassador, Intel Corporation Nigeria); Marieme Doukoure-Amoa (Industrial Engineer and Manager, Raytheon Corporation); Johanna Amunjela (Phd Scholar and Cancer Researcher, University of Aberdeen); Daniel Kaplan (Mathematician, Imperial College); Jeremy Goettel (Pediatrics Instructor, Harvard Medical School); Yewande Akinola (Design Engineer, Laing'O Rourke); Olu Aguda (Software Developer, Goldman Sachs), Yetunde Sanni and Olaide Agboola (Software Developers, Andela); Chibuzo Okereke (Engineer, Schneider Electric); and Tolu Falola (Head, Oil & Gas, Schneider Electric).
We also celebrated the birthdays of Zahra (16) and Eunice (15) with singing and a yummy cake. They were extremely pleased!
Five teams (Robotics, Mechanics, Electronics, and two Visual Programming groups) competed for a cash prize during the closing ceremony. The judges, including Mrs. Wale Dipeolu, Schneider Electric Engineers Tolu Falola and Chibuzo Okereke, had a tough decision to make with all the compelling group presentations. The Mechanics Team emerged the winner with the Robotics Team recognized as the runner up. Maryam (16) from Kano was recognized as the overall best participant in the camp and she received a laptop prize that was generously donated by Intel Corporation Nigeria. Ebele Okobi (Head, Africa Policy at Facebook) and her colleague Akua attended the closing ceremony and were impressed by the campers.
Here's what some of the participants had to say:
"I love that we are allowed to ask questions here!"
"Girls can do what boys can do!"
"I like building things. I want to study engineering."
"I never thought I could do science. Now I know I can!"
"This camp has inspired me. I want to make an impact in my community."
"I learned to build and program a robot!!!"
"This was the best experience of my life!"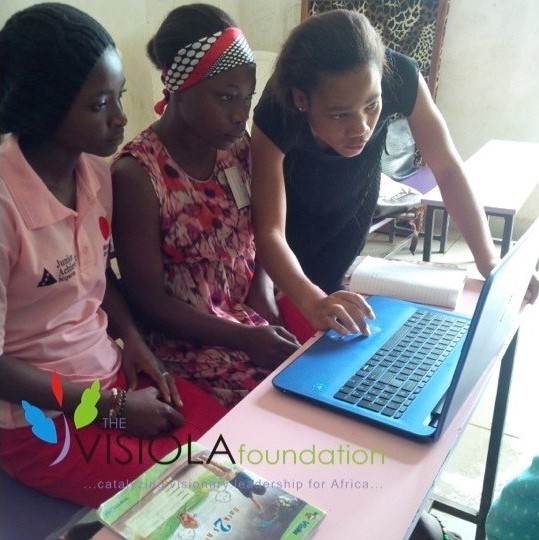 CODING CLUB FOR GIRLS LAUNCHED IN MPAPE
Sophia (18), Nnenna (20), and Ability (19), graduates of the Visiola Foundation's 2016 Summer Coding Boot Camp for Girls have launched a Coding Club for Girls in Mpape. Mpape is a slum in the Federal Capital Territory (FCT) of Nigeria that is home to 500,000 people. Over 60% of the residents are under the age of 30. Mpape is also home to a high number of disenfranchised youth and school drop outs. The three aspiring computer programmers and software developers hope to empower girls and young women there with in-demand skills as a means to escape poverty and the numerous vices that befall them.
"I want girls to know that they can become successful and that they can use technology to make a better life for themselves." – Sophia
"I have never been so challenged in my life! I learnt so much in the five-week boot camp! I now know that I need to speak up, be confident in myself and my abilities and that if I work hard, I can achieve anything. I want to empower other girls as well." – Nnenna
"I am a world changer! The coding bootcamp taught me a lot and I must teach others. Girls in my community think very little of themselves. With technology they can be empowered and they can become problem-solvers." – Ability If girls had secondary education in Sub-Saharan Africa and South and West Asia, child marriage would fall by 64% from over 2.9 million to just over 1 million. 1% increase in gender equality reduces a country's human development index by 0.75% In Kinshasa, there is only 63m of paved road per 1,000 inhabitants, as opposed to 1,000m per 1,000 inhabitants in developing countries. Sub-Saharan Africa has the lowest proportion of countries with gender parity: only two out of 35 countries. 74% of Kenya's population is under age of 34, and 64% is below 25. Gender gap costs Sub-Saharan Africa $US 95 million a year. Tanzania (population: 54.3 million) has 26 universities – 10 public and 16 private and 15 University Colleges – 4 public and 11 private. African women achieve only 87% of the human development outcomes of men. 37 out of the 54 African countries are still more than 50% rural. The average return of investment to schooling in Africa is 13% (Primary), 11% (Secondary) and 22% (Tertiary) compared with the global averages of 10% (Primary), 7% (Secondary) and 17% (Tertiary). Only 15% of firms across Sub-Saharan Africa have women in their senior management teams. African women hold 66% of all jobs in the non-agricultural informal sector and only make 70 cents for each dollar made by men.
Source: AfHDR UNDP (2016); Food Foundation (2015); Worls Bank AfHDR (2015); Montenegro & Partners (2013); Ibrahim Index (2015); UNICEF (2015)