he Visiola Foundation was invited to participate in a Roundtable Meeting in Abuja with U.S. Secretary of State John Kerry on August 24, 2016 to discuss the importance of educating girls and of encouraging them to pursue STEM careers. Ruth, Jessica, Amina, and Maryam (participants in the Foundation's 2016 STEM Summer Camp for Teenage Girls) were given the opportunity to share their views about education and empowering girls. They also presented the robotic forklift and salt water alarm projects they built during the summer camp. Secretary Kerry and his colleagues from the U.S. State Department, Ambassador Cathy Russell, U.S. Ambassador-at-Large for Global Women's Affairs, and Ambassador Linda Thomas-Greenfield, Assistant Secretary, Bureau for African Affairs were impressed by the girls' projects. Secretary Kerry urged them to continue working hard in school and to pursue excellence in their chosen STEM fields.
The annual STEM Summer Camp comprises engaging classroom coursework, practical team activities, games, and group projects. Students learn basic concepts in computer programming, science, math, and engineering, while strengthening their critical thinking, problem-solving, teamwork, and public-speaking skills.
For additional information about future STEM Summer Camp for Teenage Girls, visit here.
Connect with us to stay up-to-date.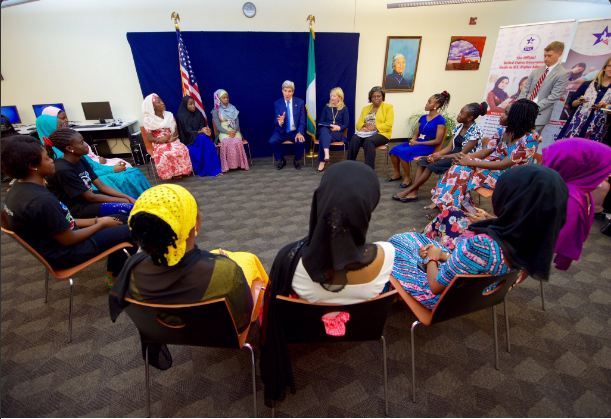 U.S. Secretary of State John Kerry in a Roundtable Meeting with adolescent girls in Abuja on August 24, 2016.